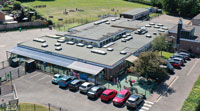 Thursday 3rd March 2022 – 9:15 – 11:15
Glenthorne Community Primary School
It was a great day on World Book Day, I was invited to read my books to the early years children at Glenthorne School. They loved listening to The Adventures of Edward the Worm, and then joining in on the actions to Flo the Fish – The Hiccupping Fish.

Due to Covid19 restrictions there has been no events in 2020 & 2021.
Lets hope 2022 is a better year.


Previous events attending:
Wednesday 27th March – 7:30 – 9:30pm
Storytellers' Cafe Evening
I will be there, telling my story behind the story
Unit 22 Wardles Lane, Walsall WS6 6DA
---
Saturday 6th April – 11am – 11:30pm
Book Reading – Reading Edward the Worm
Hednesford Library – 75-79 Market Street, Hednesford, Cannock WS12 1AD
---
Saturday 20th April – 12noon – 4pm – St George's Day
Book Signing – Signing Edward the Worm books
Harrisons Sport & Social Club – Wharwell Lane, Great Wyrley, Walsall WS6 6EU


---
Thursday 25th April 2019 – 10:30am
Book Reading – Reading Edward the Worm
Vintage Tearoom at No.3
80 Wardles Ln, Great Wyrley, Walsall WS6 6DY
---